West Maui Waterfalls
Helicopter Tour
Exclusive Doors off Helicopter Tour of West Maui
Our aircraft, the MD500 gives you an exclusive doors-off (or on) tour of the Island of Maui, not offered at any other company. With 2 seats in the back and 1 in the front everyone gets a window seat! Why drive around the West Maui Mountains when you can fly in your own private helicopter, and visit areas not accessible by car!
This 60 minute doors off helicopter tour highlights the West Maui Mountains with its lush valleys, abundant waterfalls, and amazing coastline. This tour is our most popular!
Want to make your heli adventure even more special? Add a Cliff-Side Landing to your 60 min tour and take in all that Kahakuloa has to offer! Available at checkout.
What is included:
Private Helicopter Experience (aircraft accommodates up to 3 passengers)
Guaranteed Window Seat
60 Minutes of Flight Time
Your choice of door on or door off
Refreshments in our private lounge at the heliport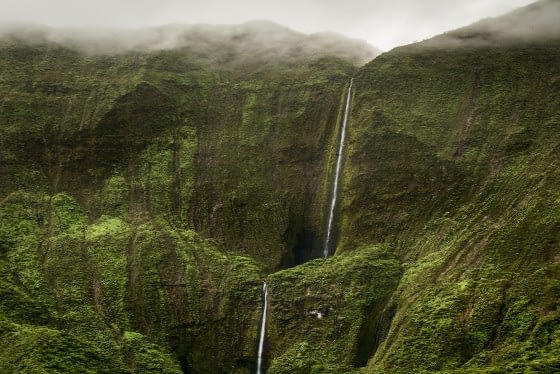 Private Tour: $1,450
(1-3 passengers)
Length: 60 Minutes
Terms and Conditions (Must Read):
Please arrive 30 minutes prior to your takeoff time for a mandatory safety briefing
Maximum number of passengers per flight is 3
All Ages Welcome! (Children under the age of 15 and/or 85lbs require the approval of company flight supervisors for any doors-off flight.)
If you choose to have your door off, please wear footwear that will not fly off during the flight
Routes and sights unfortunately cannot be absolutely guaranteed due to weather and safety requirements
Delays and cancellations for weather are at the pilot's discretion for safety reasons. We will do our best to get you rescheduled if this is the case
For a full refund, please give us 48 hours notice if you need to cancel
Other details:
Temperature during flight can get down to 60-65 degrees and we'd recommend bringing a light jacket. If you do not have a jacket, flight suits are available
Please leave all unnecessary/loose items in the car, or in our office
Cameras and cell phones are welcome on the flight, they must have a strap or lanyard attached. We have cell phone lanyards that you may borrow.
No selfie sticks or extensions over 10″ are allowed.
Long hair should be tied back or braided to keep it out of your face.
Gratuity for the Pilot and Crew are appreciated but not required. Industry standard is 10-15% of your tour cost
For more information, please refer to our FAQ's or reach out directly via email, text or phone!
Departing Kahului heliport, this doors off tour takes you along the coast of Maui's fabled North Shore, over the surf town of Paia and the world famous Ho'okipa beach park where surfers, windsurfers and kitesurfers can bee seen riding the consistent waves along the shoreline.
Your pilot will show you where the world famous "Jaws" surf break is, one of the few spots in the world that hold a big wave surfing competition.
Following the coast, you'll start seeing cliffside waterfalls as you approach the Ke'anae Peninsula. You'll chase waterfalls all the way to Hana Town and Hana Bay, where you can see the black and red sand beaches. Rounding the East part of Maui, you'll climb in elevation to peek into Haleakala crater through one of the gaps as you fly over the rainforest.
Continuing around the Eastern side of the Island until we reach the South Coast Line. We will follow the coast line to central Maui and head into the West Maui Mountains to end our Maui helicopter adventure. Visiting areas of the island that are not accessible by car!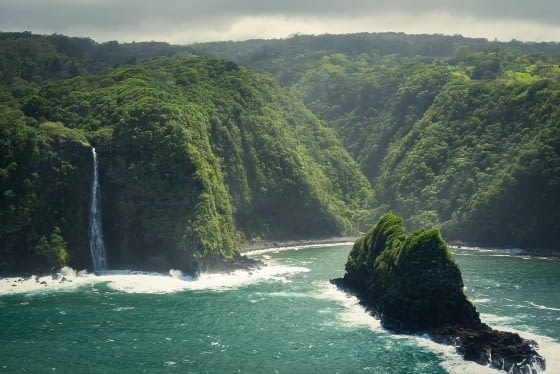 Complete Island Tour
Private Helicopter Tour:
$2,175
(Accommodates 1-3 passengers)
Length: 90 Minutes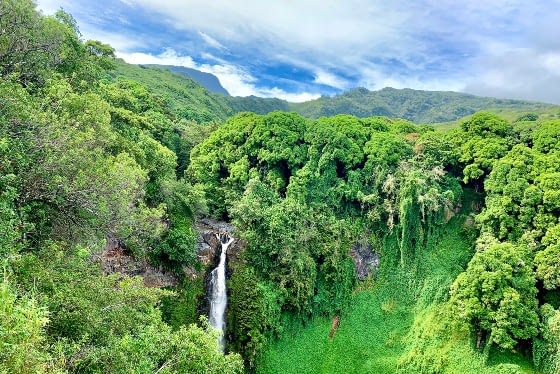 Hana Rain Forest & Waterfalls
Private Helicopter Tour:
$1,450
(Accommodates 1-3 passengers)
Length: 60 Minutes
Pacific Helicopter Tours, inc.
We strive to provide you with the best possible experience. We know you have lots of options for helicopter tours in Maui, and as a small business, we appreciate your business.
Kahului Airport, Hanger #109
Complete Island Tour
West Maui Waterfalls
Hana Rain Forest & Waterfalls
© 2020 Pacific Helicopter Tours, Inc. All Rights Reserved. | Site by Caparso Creative