Frequently Asked Questons
(and answers)
Are you currently open?
Yes! We are currently offering Private Charters and have stringent COVID regulations in place for the safety of our guests and staff. We are the only company on Maui offering affordable private helicopter tours.
Are you helicopters sanitized?
Yes! We sanitize our seats and headsets after every flight with commercial grade sanitizers to ensure the health and safety of our guests and our staff.
Where are you located?
We are located at the Kahului Heliport, hangar #109 towards the end. You can see a map on our contact page, and we email you directions in your confirmation email.
Are all of your tours doors off?
Yes, and No! Both options allow for optimal viewing, as each window seat has wide windows extending from the top of your head to your feet.
The choice to fly with or without doors depends on your priorities and comfort level. In a closed aircraft, you are shielded from wind exposure and you will hear narration clearly. It is a very serene way of taking in the scenery through the large windows.
If you are game for a more visceral experience or photography is important to you, our doors-off adventure is for you. Floor-to-ceiling openings allow you to look straight down into waterfalls and sea caves, and glare from windows in your photos is no factor. Because the helicopter is open to the elements, you will be exposed to wind and cooler temperatures caused by airspeed and altitude. For your comfort, please follow our recommendations on how to dress appropriately for your doors-off helicopter flight. The airframe does protect you and your camera equipment well during light showers or mist.
If some members of your group would like the extra comfort of a door, we can remove some doors and leave others on. However, all seating arrangements are subject to weight and balance calculations.
For doors-on and doors-off tours, please follow our recommendations on how to prepare for your flight so you can make the most of it. We don't charge any more either way you choose.
Will there be other passengers on the flight?
Due to COVID-19, we are keeping everyone's health as a top priority and only offering Private Charters, just you, your family, or friends. Our aircraft seats up to 3 passengers.
Can I choose my seat?
Our first priority is safety. We primarily assign seats based on achieving the best weight and balance for the aircraft. We do try and honor requests for certain seats, keep in mind there are 2 seats in the back and 1 in the front next to the pilot.
What do I need to do to be ready for my flight?
We ask that you arrive at least 30 minutes prior to your scheduled departure time to allow for ample time to get situated and receive the FAA required safety briefing and get outfitted with the required life preservers.
We recommend a light jacket as it can get cold at elevation in the valleys. We have top gun style flight suits that are available at no charge to help keep you warm if you prefer.
We cannot allow any loose items on board, no hats, car keys, visors, scarves, hair clips, etc. If your hair is long enough, it should be tied back tight during the flight. Ear rings should be removed for the most comfort with the headsets.
Any cell phones, cameras, or equipment must have a wrist or neck strap. We do have loaner phone straps available for your cell phones as well as lanyards for smaller cameras.
I am traveling solo, can I still take a flight?
Because we offer private helicopter tours, you are more than welcome to book the aircraft for yourself!
Are there any weight restrictions?
Yes, Due to manufacturer's limitations, we must limit the group's combined weight to 750lbs.
Can I bring my camera?
Absolutely! Bring your DSLR, GoPro, cell phone, etc! Anything you bring requires a wrist strap or neck strap for safety. No selfie sticks allowed (nothing over 10″ long and no clamping type devices); your camera must have a positive attachment that ensures it will not fall out.
Can I talk to the pilot and other passengers?
Absolutely! All of our aircraft are outfitted with an intercom system. Each passenger has a push-to-talk button, that when held, allows you to all communicate with each other.
We encourage interaction with our pilots. One of the best parts of our tours is that we can tailor each flight to your specific wants. See some whales and want to watch them for a few minutes? Just ask the pilot and we'll spend as much time there as you'd like! Missed that selfie shot with the waterfall? Just ask to turn around and try again. Want to know the history and cultural significance of that valley? Ask away!
When is the best time to go?
It depends on what you are after. Generally mornings and afternoons are the best combination of lighting and flight conditions. If you are a hardcore photographer and want the best shots, the 7:30 departure is your flight!
Can we go anywhere else besides the tours you have listed?
Absolutely! We can plan a custom charter for you, no problem! Our smaller group tours give us the flexibility that you won't find anywhere else!
Will I get motion sick?
Generally, people that are prone to motion sickness find helicopters less inducing than boats or small planes, and with the doors off, you gets lots of fresh air.
If you are concerned about getting motion sickness, a dramamine or ginger chew before you go will help immensely.
What is your alcohol policy?
In accordance with CFR 91.17(b) "Except in an emergency, no pilot of a civil aircraft may allow a person who appears to be intoxicated or who demonstrates by manner or physical indications that the individual is under the influence of drugs (except a medical patient under proper care) to be carried in that aircraft."
So, please be sober for your flight.
What is your safety record?
A safe flight is our primary concern and we are proud of our perfect safety record. We have our own private maintenance and overhaul shop, and we are a factory authorized service center for the helicopters we fly. That means that we can fix any issue that arrises without disrupting your flight schedule. All of our aircraft are given a thorough inspection before every flight, and at the end of the day.
Our pilots are highly trained and very knowledgeable in our islands unique weather and terrain considerations, ensuring that you have a safe, enjoyable, and great tour. All of our pilots have the final call to weather and flight conditions without any pressure to fly when it is not 100% safe.
What camera settings are best?
I recommend sports mode, or shutter priority with at least a 1/1250 sec or faster exposure time.
For those that love photography, ISO 400 and a wide lens such as a 16-35 or 24-70 is best.
Cancellation Policy / When do I pay?
We ask that you give us a 48 hour notice to any changes or cancellation to your booking. Changes or cancellations made less than 48 hours before your scheduled departure may not be refundable.
If we choose not to fly because of inclement weather or safety reasons, we will do our best to reschedule your tour at a time convenient for you. If we cannot reschedule your tour, we do offer a 100% refund.
Do I tip my pilot?
Tipping is not required, but greatly appreciated. Much like a server at a restaurant, our pilots work hard to make sure you have the best experience possible. Standard tipping rates range from 10%-15% of your tour cost. If you are compelled to tip your pilot, please do not tip them in the helicopter as it can be very windy outside. Please hand your tips to the office staff after your tour.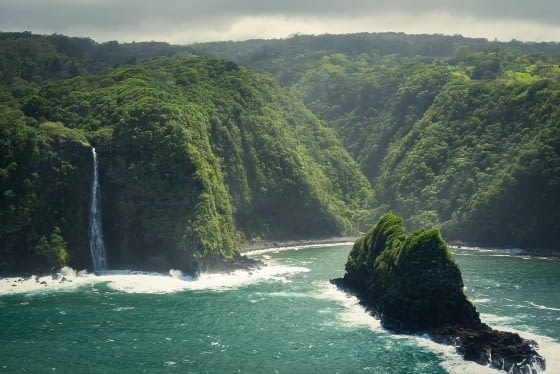 Complete Island
Private Helicopter Tour:
$2,175
(Accommodates 1-3 passengers)
Length: 90 Minutes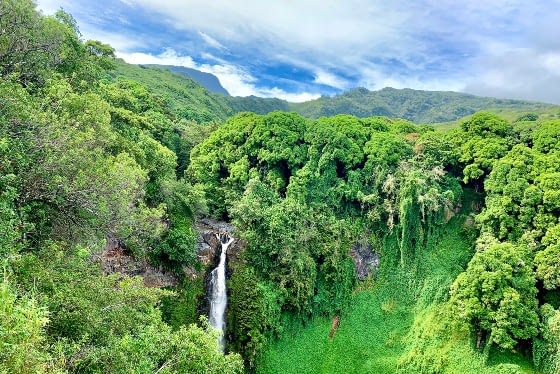 Hana Rain Forest & Waterfalls
Private Helicopter Tour:
$1,450
(Accommodates 1-3 passengers)
Length: 60 Minutes
West Maui Mountains & Waterfalls
Private Helicopter Tour:
$1,450
(Accommodates 1-3 passengers)
Length: 60 Minutes
Pacific Helicopter Tours, inc.
We strive to provide you with the best possible experience. We know you have lots of options for helicopter tours in Maui, and as a small business, we appreciate your business.
Kahului Airport, Hanger #109
Complete Island Tour
West Maui Waterfalls
Hana Rain Forest & Waterfalls
© 2020 Pacific Helicopter Tours, Inc. All Rights Reserved. | Site by Caparso Creative